Safety,Stability and Economy are Our Core Product Power
What kind of benefits can Donut Fender bring you in actual application scenarios, how can we ensure its safety andstability, and how can users avoid pitfalls to choose first rate supplier when face to mixed quality foam fender on the market.
(Click to the answer directly)
Donut Fender

Introduction 
The fenders are made of polyethylene foam with a polyurethane elastomer shell.Special donut fenders have been specifically designed to protect the berthing pipes of the vessels. The internal structure is heavy duty, but it allows the rotation on the support pipe. The polyethylene foam guarantees unsinkability even in case of damage and ensures high energy absorption with low reaction force, which is essential to eliminate the risk of damage to the hulls.They can be purposely created for any pipe type and any pipe diameter.Main construction includes:
100% fully closed cell foam core body.

High-tech polyurethane coating.

Low-friction UHWM bearing pads.

High quality inner steel pipe.

Reinforced nylon tire cord skeleton layer.
Donut Fender "Unique" Structure
Donut Fender pays attention to each detail of fender structure
01 

UHMW PE Pads
---
Low-friction UHMW bearing pads
02  Inner Steel Tube
---
High quality inner steel pipe
03  Skeleton Layer
---
Reinforced nylon tire cord skeleton layer
04  Laminated Structure
---
 Laminated foam core body (Non-Winding)
05 
Foam Core
---
Fully closed cell foam core
06  Fender Coating
---
Black Technology Coating
01  Low-friction UHMW bearing pads
The low-friction UHMW bearing pads which need minimal maintenance. It can help the float to freely rotates around a pile, rises and falls with water level
02 High quality inner steel pipe
The central steel tube resists mooring load and provides a stable, non-abrasive core for the foam body. And engineered component, the central tube is a precise length.
03 Reinforced nylon tire cord skeleton layer
Multi-layer cords (Premium Quality) are winding during the polyurethane spraying process, and the cord layers play a role of skeleton support, which strengthens the "Outer Jacket" of foam fender again.This advanced skeleton process extremely durable to all types of weather, forces, and marine conditions.
04 Laminated foam core (Non-Winding)
Fender adopt foam lamination production technology.This structure can exert its maximum mechanical performance and ensure the superiority of energy absorption and reaction force.Most manufacturers use winding process, fender will be deformed during application, which will affect energy absorption and reaction force at the same time.
05 Fully closed cell foam core
As core functional part of foam fender choose supreme PE material,provide fender advanced energy absorption and low reaction force,making the Ocean Defender own superior performance in safety, durability and function.According to different working conditions have a variety of capacities to choose.
06 Black Technology Coating
Ocean Defender using our exclusive research and development of Black Technology Materials (Non-marking Polyurethane) sprayed on the outside of foam core,which like wearing a strong and elastic armor to protects foam core permanently.
Black-Technology-Material
This Black Technology Material used by Donut Fender may subvert your perception of foam fenders.
You can imagine the result of a watermelon falling from height, but if the watermelon is sprayed with our black technology material and falls from the height of 100 meters, can you still imagine the result?
The almost indestructible coating of Ocean Defender is made of Polyurea,one Black Technology Material ( Polyurea is a branch of polyurethane ). This Black Technology Material is independently developed by us which have very important properties like:extremely strong, stretchable, flexible, anti-deformation, anti-corrosion,UV resistance etc.
The polyurea coating is a direct protective measure for foam core, so the quality and performance of polyurea coating directly determine the strength and service life of foam fender, which is a pitfall point that users need to pay special attention to.
Donut Fender "Authenticity" Superiority
After years of product R&D combined with actual product applications and user feedback, Donut Fender reflects the excellent product performance, and truly exerts its ultimate reliability, safety and stability,empowering world green and smart docks.
Freely rotates around a pile.

Superior energy absorb and low reaction force.

Lower reaction force than rubber fender & keep high energy absorption.

Compression & recovery efficiency golden ratio.

Extrely low hull pressure,non-marking polyurethane coating.

Anti-burst,anti-sinking, ultimate security.

Remain functions under accidental damage.

Excellent anti-ultraviolet light (UV) resistance.

Resistance to acid, alkali and salt and marine biology corrosion.

Resist all kinds of rough marine environments (Tropic & Frigid Zone).

Material and technical process determine long service life.

Suit all sites no matter small or large tidal changes.

Customization of fender size and shape.
Application And Leading Extended Field
Corner protection | Turning structures | Lead-in jetties | Simple breasting dolphins | Bridge protection
Donut Fender Operating Guide
Guiding structures
Corner protection
Breasting dolphins
Multiple Capacity Performance Parameter
How users to choose superior performance foam fender.
Would you like to know more about Ocean Defender?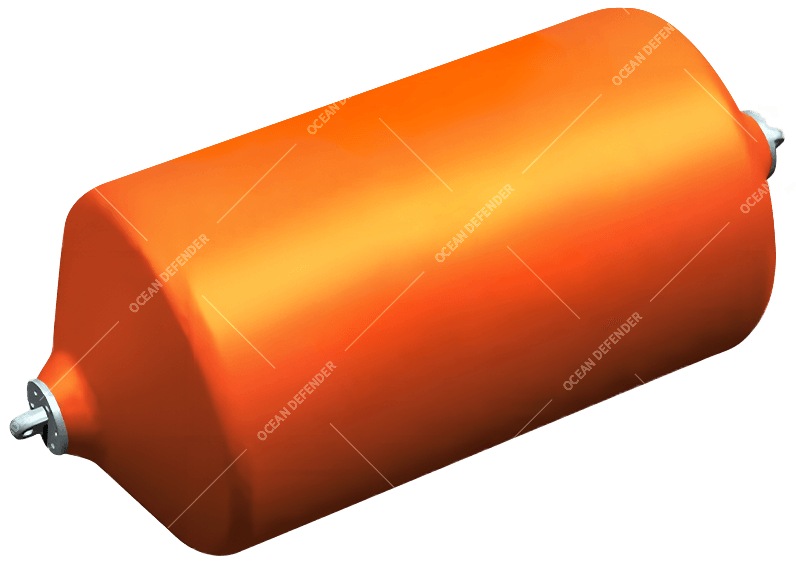 NANHAI Other Marine Industrial Forms
The development of NANHAI during the past 20 years has involved many maritime fields, providing global customers with overall solutions for Berthing, Mooring, Ship to Ship, Ocean Wind Power, Deep-Sea Farming, Buoyancy and Salvage, Bridge Blocking, Ship Launching, Dock Caisson Moving etc.